COMEBYE TRY 'N' CATCH ME "Tag"
HT, PT
Tag has been DNA tested for CEA; her Genotype is Normal. #05-3036
Tag has been DNA tested for the MDR1 gene and is a non carrier.
For information and how to test your BC for CEA go to www.optigen.com
Comebye Bronco Buster, NA FDCH HCT (Buck) x
NATCH Comebye Wild West Wilma, MAD AX AXJ O-EAC O-EGC O-EJC FMX (Wilma)
DOB: 4/15/98 - OFA Good - OFA Elbows - CERF - BAER
Black/White, Tan points - Scissor Bite, Full Dentation
Tag has many traits of her Grandma Bette along with the humor of her dad Buck.
She has passed on to her offspring the smooth and efficient jumping stlye handed
down from her Grandma. Loves to 'work' the ball around the yard same as her mom does.
Tag is my buddy, always in tune to my emotions, always making me smile!
Tag started her herding career as a seven year old and is enjoying it very much!
Her pups excel in performance sports.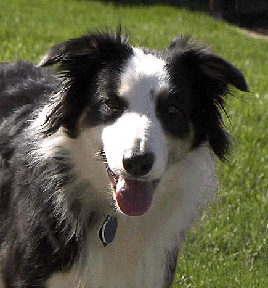 Tag - May, 2006


Below is Tag's daughter Libbee
(aka Comebye Comet Catcher)

© Contents and photos are the property of Comebye Border Collies & Janine Jordan - 2004-2007