"It's apple picking time!"
Meet Pixie, Trixie and Bob Yohanson,
apple pickers by day and super puppies by night!
Born Sept. 9, 2007
CH Shoreland Riptide at Comebye Riptide x Comebye Stick 'em Up Twiglette

These puppies will be suitable for working/performance homes.

They will have out going temperaments, high drive, great structure and athletic ability.
Riptide has proven to produce herding ability along with high trainability and drive.
These will also be very pretty puppies.
Twiglette brings forward the intense talent, athleticism and trainability from
her grandma Bette. These pups will do it all!

Pixie, tri female pup at 1 week old

Trixie, b/w female pup at 1 week old

Bob, b/w male pup at 1 week old

Group at 1 week old

Twiglette and her pups at 1 week old.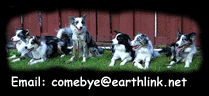 © Contents and photos are the property of Comebye Border Collies & Janine Jordan - 2004-2007