The ROCK 'N' ROLL Litter - Week 5
The pups are eating their own grub now. Playing hard, tugging and exploring.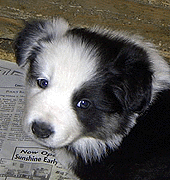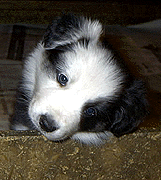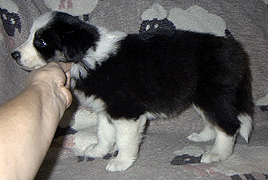 Laverne's face reminds me of Great Grandma Bette. She loves to eat and throw her weight around. She is a real sweetheart and the escape artist to the max!

Oh Ritchie you so fine, you so fine, it's Ritchie!
Mr Personality and oh so happy!!!

Fonzie is just the cutest and so athletic and quick on the paw!
He's smaller than his buddies but that certainly doesn't hinder him.

Shirley has such a wild tongue...lick lick lick, and a wild child.
Ya think what she is hearing from Fonz she has heard before?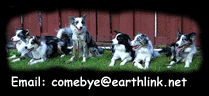 See dogs from previous litter.
WHELPING BOX MY DOGS PUPS 3 WEEKS

© Contents and photos are the property of Comebye Border Collies & Janine Jordan - 2004-2007