We're So Vain...

OTCh CT CH Blitzen's Sharp Dressed Man, VCD2 UDX5 TDX OA OAJ FM HSAs RN x
Comebye Try 'N' Catch Me, 1/2 HT
These puppies will be suitable for working/performance homes only.


Mick - - Madonna - - BonJovi
You walked into the party
Like you were walking onto a yacht
Your hat strategically dipped below one eye
Your scarf it was apricot
You had one eye in the mirror as
You watched yourself cavort
And all the girls dreamed that they'd be your partner
They'd be your partner, and
You're so vain
You probably think this song is about you
You're so vain (you're so vain)
I'll bet you think this song is about you
Don't you, don't you, aw

(Thank you to Carly Simon)


Mick is the dude... wait until you see me strutting!

Madonna is the meowwwww...ssstttt she's hot!

Bon Jovi has "the look"... eeeeooouuu!!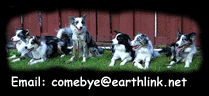 © Contents and photos are the property of Comebye Border Collies & Janine Jordan - 2004-2007