The ROCK 'N' ROLL Litter
(Ch. Shoreland Riptide at Comebye x Comebye Try 'N' Catch Me)
- ADVENTURES -
The pups have moved on to adventures in their new homes.


Laverne is now Comebye Molly
Molly was run down by a speeding van
and killet on August 14th, 2005
Rest in Peace sweet Molly Laverne...

Ritchie is now Stamp. aka Comebye First Class
CDX RN OA OAJ

Fonzie is now Comebye Harley

Shirley is now Libbee. aka Comebye Comet Catcher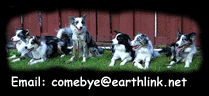 See dogs from previous litter.

© Contents and photos are the property of Comebye Border Collies & Janine Jordan - 2004-2007